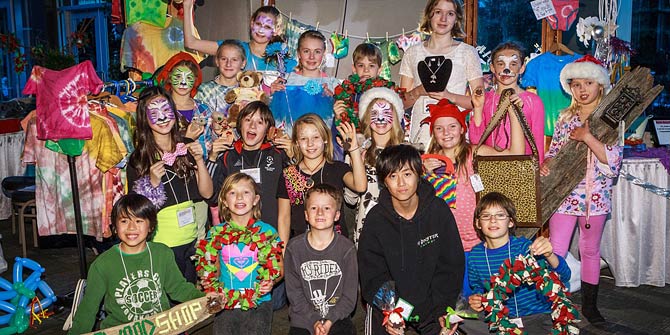 "Bratz Biz kids' market returns  – Young Artisans and entrepreneurs sell seasonal gifts at Westin on Nov. 26"   – Pique Nov 17, 2016
Bratz Biz is 11.
This milestone elates the co-organizer of the annual kids' artisan market, Susan Rowlands Shrimpton.
"It's awesome. Eleven is a really big number. Who would have thought?" she says.
"Bratz Biz started over a haircut. Two of my daughters were crafting a lot and selling pieces on the beach at Pender Island. (Co-organizer) Carmen (Laslett's) daughter was also making things. We wanted to do something for our kids so we talked.
"We both always have a lot going on, and we sat down and just figured it out. The first year was a huge success. We got great feedback and we carried on from there."
This year, Bratz Biz has moved — but still has Santa, entertainment, crafts and prizes. It takes place at the Westin Resort & Spa on Saturday, Nov. 26, from 10 a.m. to 6 p.m.
Rowlands Shrimpton says the market's biggest year so far was 2010.
"We had something like 35 vendors, which was too many," Rowlands Shrimpton says.
"We found that keeping it under 30 was perfect. We found that Bratz Biz is a family event, good for people coming out for the day."
This year, there will be 25 vendors, ranging from Grade 1 to Grade 12. The average participant is in Grade 6. Everyone who applied got in, Rowlands Shrimpton says.
"We have a lot of return vendors, some have been with us for many years. This year there are two Grade 12 students and there are two in Grade 10 — it's the first time we've had four high school-aged students," Rowlands Shrimpton says.
Returning vendors include: Re-Cycle Art and Jewelry — clocks and jewelry made from upcycled bike parts; Wood Works — coasters, ornaments and knick-knacks; Sage's Sweets — chocolate-dipped shortbread and a special crispy toffee; Crafted by Ceilidh — colourful flannel pillowcases and washable lunch bags; Nice Kitty Cards — seasonal gift tags and cards; McKenzie's Fashion — infinity scarves; TJ's Candy Shop; Upcycled Jewelry; Happy Helper's Hats — toques; Lucky Star Soy Candles; Whistler Fairy Factory; Hooked on Barn Boards; Fizz Factory — handcrafted bath bombs; and Wood Wicks Whistler — tealight candles set in logs and driftwood.
The entrepreneurship side of Bratz Biz, teaching youngsters to create their own businesses, is very important, says Rowlands Shrimpton.
"We just had an event at the Westin, with a retired businessman — Craig Lovell — who volunteered to do a sales workshop. It was awesome," she says
"He had some really key points for the kids. He had some new great tips and he kept it simple. He asked each of them to talk about the features, the advantages, and the benefits of their products. Even the youngest participant, who is in Grade 1, participated."
Rowlands Shrimpton says the main job for this year was to help the kids finesse their products.
"We follow up and make some phone calls because some kids may not sell much if they don't put more work into it. We have both worked with kids individually, in their homes and our homes," she says.
"Both Carmen and I love to craft. We love to sew and make stuff all the time. We know how to use the tools and help people. If kids come with something that is not quite right, we want to teach them."
With kids now in their 20s, Rowlands Shrimpton and Laslett are stepping down after this year, and while one parent has agreed to step in, they are looking for another two people to share the creation of the market.
"Handing over, we hope that the same care will be taken to develop the kids. The integrity of why we were doing this is important. We never did this to make money, we wanted to give the kids an experience that is kind of hard to find," she says.
In the meantime, Rowlands Shrimpton's youngest daughter is taking part in Bratz Biz for the first time, aged 9.
"She has motivation. She wants a dog, so she is making dog toys," she laughs.
Rowlands Shrimpton says they have appreciated the support Whistlerites have shown Bratz Biz.
For more information, visit www.bratzbiz.ca.
"Bratz Biz gains young artisans, teaches business tricks to youth"
Pique, Oct 20, 2014
All that glitters is good — especially when you can buy it, wrap it and give it to others.
Bratz Biz is back for its ninth year.
The Christmas weekend market where talented young artisans sell their work is again joining the Bizarre Bazaar at the Whistler Conference Centre on Nov. 29 and 30.
"It's going to be a busy market," says Susan Shrimpton, who founded Bratz Biz with Carmen Laslett.
At the first juried event last month, over 70 per cent of their tables were filled.
But youngsters wanting to take part can bring their wares to be juried at Creekbread in Whistler Creekside from 4 p.m. to 7 p.m. on Thursday, Oct. 23.
Shrimpton says last year Bratz Biz had 25 businesses on the Saturday. This year, she hopes to "squeak it out" to a bit more.
She says more kids definitely want to take part. All participants must be in school and under the age of 19.
"Traditionally, at our first jury we have six people come and then get slammed at the second jury and it ends up being the perfect amount of participants every year. We've only ever had to turn away a couple of kids who definitely weren't ready," Shrimpton says.
"But the applications are now coming in for the Oct. 23 jury and I can tell we are going to have to turn away many. This is the first time it has happened."
Shrimpton says that because of this, Bratz Biz is not taking any more baking or jewelry, two products that are popular with the sellers.
This year, the juries have been seeing new youngsters, including their first Vancouver vendor, Crafted by Ceilidh, a Grade 3 student who specializes in fabric art on pillow cases and burp cloths.
"She's sewing a lot. We haven't had a lot of kids doing sewing in the past," Shrimpton says.
There are also tie-dye products, soaps (including Nicole's Aromatics, who was at the farmers' market this year), Christmas decorations, decorative hooks and more.
If needed, Shrimpton says they may have to talk about the need for more space with the Whistler Arts Council.
"If we're too big in the future, we'll have to have our own event," she says.
It's not surprising that it is so popular. The sellers not only make money, they are taught how to run a business in the run-up to the market taking place. Shrimpton says the first-timers are nervous, but they all gain experience — and confidence.
"They just blossom. For children to be able to converse with adults, it's a real skill. It gives them the confidence to do that. In terms of the younger kids, we give them quite a bit of coaching and that is part of the workshop we do before the event," she says.
"Last year, we did some role playing and we gave them some situations and they all were excited to try the exercises. They want to learn."
Shrimpton also talked about the fundraising they have to do to keep Brats Biz going, about $10,000. Tables are heavily subsidized at $60 a table, compared to the usual adult WAC rate, including membership, being $240. They also pay for entertainment.
Previous Articles about Bratz Biz: