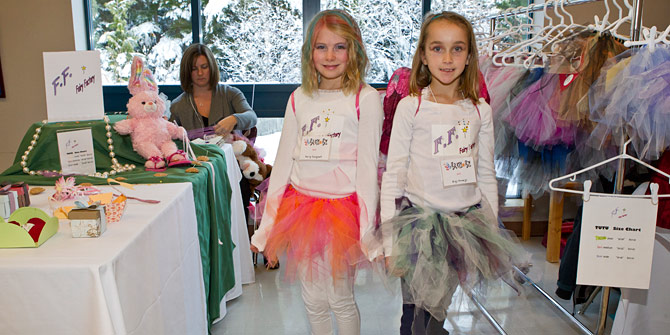 Many volunteers are required to make this event possible. Please review the volunteer requirements below and contact us with your requested date, time and job.
Event Posters Circulated
Volunteers are being sought to put posters up at designated locations throughout Whistler & Pemberton.
Door Prize Pick-Ups
Volunteers are needed to pick-up door prizes up at locations throughout Whistler & Pemberton.
Wrap Gift Baskets
Volunteers are requested to wrap gift baskets at Carmen's home (Emerald) one evening before the event.
Highway Signs
Highway signs need to go up in daylight hours Friday, November 27.  This job is difficult to do alone.  Sign crew will need drill, screws, (2nd) drill, drill bit and zap straps.  Bratz Biz will provide everything needed.  Signs can come down while it is still light on Sunday, November 29 around 2:00 pm.  Signs are stored in Function Junction.  Please contact us for more information.
Event Set Up Friday Nov 27th 10am-2:00pm
We need about 8 volunteers to help transform the Whistler Conference Center lobby. This involves moving furniture, setting up tables, arranging tablecloths, decorating trees, climbing ladders to hang decorations or posters, wrapping boxes and a few other tasks.
Vendor Set Up 
Vendors may set up after school on Friday until 6:00 pm.  Bratz Biz vendors may not use the loading bay.  Please use the front lobby doors of the conference centre.
Event Volunteers
Volunteers are needed throughout the weekend to sell draw prize tickets, meet and greet guests, circulate among vendors, assist at the concession and assist entertainers. Mostly however, we need many strong and energetic hands for tear down on Sunday from 5pm.
Bratz Biz gave Keesun the tools to believe that his artistic and creative talent could enable a business idea. This was a very powerful and motivating message that I would encourage all parents and youth to explore. Bratz Biz taught Keesun to be creative, fearless, and confident that the journey itself will bring great satisfaction. Ever since Bratz Biz, Keesun has learned to trust and harness his entrepreneurial and creative spirit.