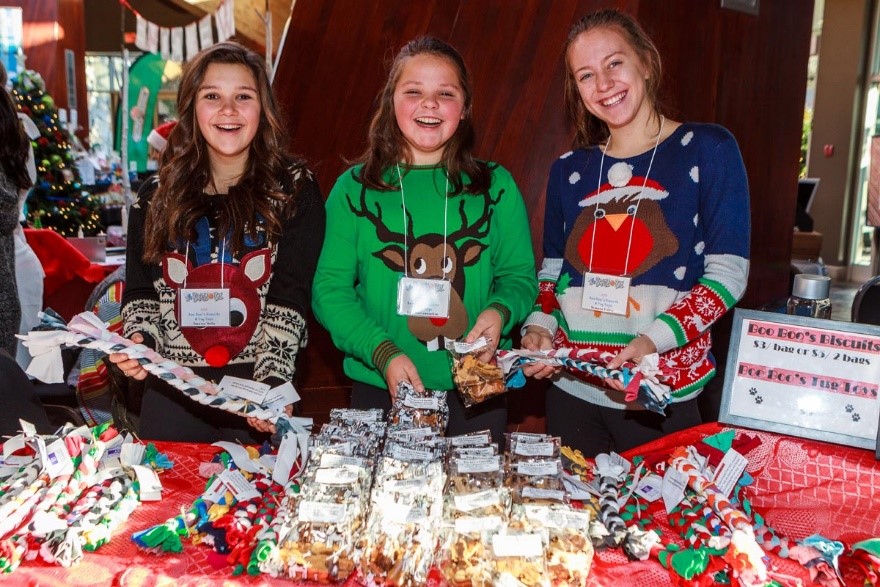 Bratz Biz is proud to be celebrating its thirteenth year and this year we have chosen to celebrate the legacy that we continue to create by honouring our founders, Carmen Laslett and Susan Rowlands.
In conjunction with Arts Whistler, we are pleased to announce that 2018 is the inaugural year for the Carmen and Susan Legacy Table. This award supports young artisans of Bratz Biz in transitioning to the Arts Whistler Holiday Market through continued guidance and financial support.
Bratz Biz alumni Jessica Wells had participated in Bratz Biz since grade 5 and has sold a variety of items including duct tape accessories, dog treats and tug toys, and Christmas swags.
Jessica has fond memories of her past participation; including one particular windy and snowy day: "I think one of my fondest memories of the fair was working with my two best friends Lily Macconnachie and Brennan Riddle selling BooBoos Biscuits. Lily's mom brought us all hot chocolates and it was about ten minutes before they opened the doors and we watched the line down the street. We put down our drinks and put on our Christmas sweaters and started the day.
Bratz Biz is dedicated to promoting the creative and entrepreneurial spirit of young artisans. We build strong foundational business skills while celebrating creativity and the arts.
According to Jessica she has "…learned so much about creating my own business and how to correctly promote my products to other people that I will definitely use in the future. Not only have I been taught basic promotion skills but along the way I have developed a sense of commitment and what it really means to dedicate your time to your craft, knowing that there is a reward."
Reflecting on her experience as a whole Jessica suggests Bratz Biz "… to any kid who has a creative and determined outlook on life and wants to expand their ideas! Everything between the people you meet to the lessons you learn along the way has made it one of the best parts of the holidays for me and I hope other kids will enjoy it as much as I did."
Thank you, Jessica, for your continued support of Bratz Biz and your continued involvement in the arts and entrepreneurship. We are pleased to announce that Jessica Wells and her company Evergreen North is the recipient of the Carmen and Susan Legacy table for 2018.
Evergreen North can be found at booth #10 at the Arts Whistler Holiday Market on Saturday Nov 24th 10am – 7 pm and Sunday Nov 25th 10am- 5 pm, 2018 at the Whistler Conference Centre.
Are you a Bratz Biz alumnus and looking to showcase your business at next years Arts Whistler Holiday Market. Drop us an email and learn how we can support you. Email info@bratzbiz.ca.