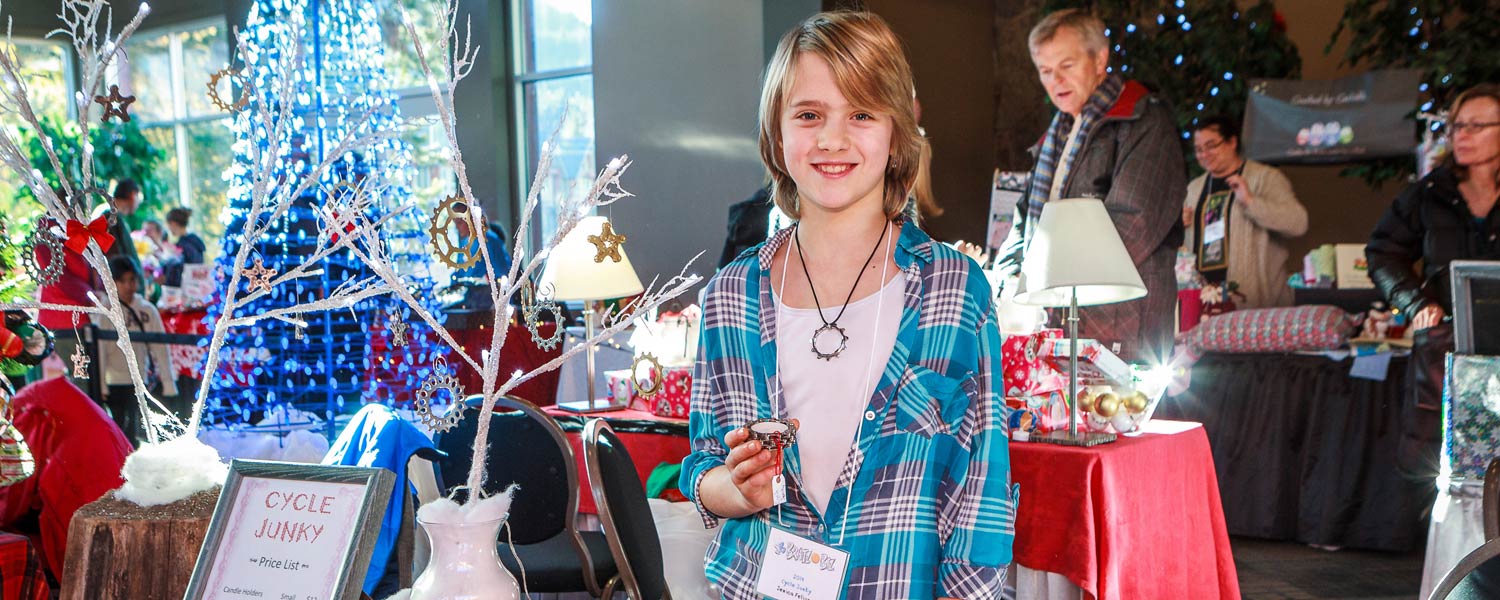 BRATZ BIZ TESTIMONIALS
Bratz Biz fuels the entrepreneurial spirit and artistic passions of young artisans by providing a venue for selling crafts and a meeting place for like minded individuals to share new ideas and learn the business side of marketing arts & crafts. By providing space and support, Bratz Biz empowers young artisans to take individual art projects from development to sale and shows them how to turn a passion for the arts into a viable part-time income. Read below what parents and participants had to say about their experience at Bratz Biz.
The Bratz Biz mission statement of "fueling the entrepreneurial spirit and artistic passions of young artisans" has certainly been fulfilled thanks to Carmen and Susan. My two children, Stephanie and Orion have been a part of Bratz Biz for the past 5 years. My son has tried his hand at wood work, sewing, and Japanese script writing on stones. Stephanie has written her own book, made her own line of bath salts,  and steadily developed her own unique jewelry that she now sells at the Cross Country Connection bike and ski store throughout the year. Both children have been provided with the opportunity to develop skills that they might never have otherwise tried. The experience certainly exemplifies that being an independent business person requires a lot of work and dedication.  We are all thankful for the supportive and encouraging environment that Carmen and Susan have provided through Bratz Biz. I know that my children look forward to it each year!
First of all, I want to say a huge thank you to Susan and Carmen for all the work and volunteer hours that they put into making this event a success every year. Being an artisan at Bratz Biz for these past six years has helped give me the tools and confidence I needed to pursue my business at a higher level. I would really encourage any aspiring young artist to participate in this fun event.
Thanks to the Bratz Biz I was able to start VR Chocolates. If it wasn't for their hard work I never would have gotten this far. Carmen and Susan take care of the MOST important part which is the whole organization, advertisement and finally bringing the customers; and they do it with a smile. I hope every kid in Whistler gives it a try because I know they will love the experience of having a company. I look forward to yet another year at the Bratz Biz.
I had such a great experience doing Bratz Biz these past 4 years. It gave me the opportunity to be able to share my crafts with everyone. I was able to meet many new people through it, and which let me experience new crafts.  I made a few connections with different customers and they would come back every year to get my latest toques. It taught me how to manage my time and have a small business, and I learned that word of mouth is the strongest way to succeed. Because of Bratz Biz it has left me wanting to start my own business and go to school for it.
Bratz Biz was a great opportunity for Yuki and was all a positive experience. She learned to set goals and make a plan to reach it, manage her time and get things done on time. She has also learned the basics on how to run a small business, advertising, accounting, producing, selling and saving. I truly encourage any child to do Bratz Biz if they are given the opportunity.
Bratz Biz was my first introduction to the business world. I was only in grade 4, but I found out I liked making things and when I realized that other people were willing to buy my creations, it was very motivating. At a young age, I learned to manage my own small business, which included ordering supplies, designing the product, manufacturing, hiring people, and marketing. Although I am not in the toque business anymore, I have been successful in many other small business ventures. After graduation, I plan to attend post secondary to learn more about business.
Bratz Biz gave Keesun the tools to believe that his artistic and creative talent could enable a business idea. This was a very powerful and motivating message that I would encourage all parents and youth to explore. Bratz Biz taught Keesun to be creative, fearless, and confident that the journey itself will bring great satisfaction. Ever since Bratz Biz, Keesun has learned to trust and harness his entrepreneurial and creative spirit.